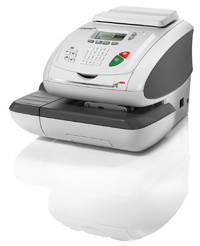 If your office spends at least $50 or more on postage monthly, postage machines may help you save money by printing exact postage on packages as well as save time on trips to the post office. The problem, however, lies in choosing which machine will best serve the budget and needs of the office.
There are several questions to consider when choosing a machine for postage purposes. First, what does your office spend on postage monthly? You want the expense of the machine to be justified. Second, how many items of mail does your office send each day? And third, do the letters and packages mailed vary by weight and size?
Understanding Postage Equipment
It is important to note that the meter portion of your machine set-up cannot be bought but instead leased as noted in federal law due to the changing regulations. The meter is the part of the equipment which prints the mark called the indicia that indicates the price paid for postage.
While other postage equipment can be bought and owned, the meter is regulated and will usually hold up to $1,000 in postage. You can send express, priority and even first class mail including packages and bulk mailing. A permit is needed from the U.S. Postal Service.
Meters differ for postage machines and can be fully digitally automated with things such as bar code printing, password protection, postage reset, and account codes to track employee usage and much more. With a digital machine, postage rates can be automatically downloaded with ease.
The base of these machines for postage typically consists of an envelope sealer, an envelope feeder, a stacker and even a dispenser for tape should a letter or package need postage that could not be permanently imprinted directly. While meters are only leased, a base unit for the machines can be purchased.
The feeder in the base unit of the postage devices guides your envelopes through the meter so that postage is imprinted or affixed on the correct place. Not all units have a feeder so you have to decide whether your monthly mail volume warrants the added expense of a feeder.
The sealer part of this base unit will dampen the flap of an envelope before closing it. A sealer is only beneficial to offices that send out voluminous amount of mail where it might be more efficient for a machine to moisten and seal rather than a human. The stacker part of the base unit is really a catch tray for all the envelopes that are fed through the machine for postage and sealing.
The dispenser for tape is a necessary part of a postage unit because not all packages are business envelope size and easy to imprint the postage indicia on. Therefore, printing the postage on tape or labels is necessary. These can then be cut and placed onto the package itself for mailing, thus avoiding a wait in the post office line for special weighing and postage.
Depending on the postage unit you choose, you can get a postage scale which is an integral part of it or purchase one separately. The scale is necessary to weigh your letters and packages to determine the total amount of postage needed for mailing. Weighing a letter or package saves money because the postal unit could then print the exact postage without wasting several cents on stamps which might go over the needed dollar amount.
The size of your office and its overall mail production will be a strong indicator of which machines you should look to for your postage needs. Remember, postage machines can save both time and money, so choose wisely.