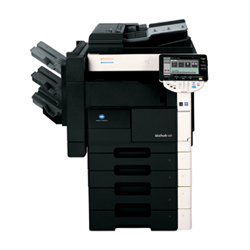 Space, time and money are three things you will gain when you choose the multifunctional printer scanner copier. Machines with these
multiple capabilities are perfect for the small business office. Just picture a small office with a separate machine for faxing, printing, copying and scanning. You could have as many as four or five separate devices in your office! Not only is this a waste of work space but also a waste of money.
Choosing a machine with multiple functions means you have extra work space in your office. Your office supply budget is smaller because you are not buying separate ink cartridges for the machines or special toner or film either. Time is saved because you are not dealing with machines that have different technologies and operations you have to learn.
What to Look For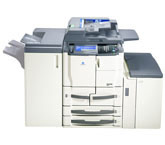 When you are dealing with a printer scanner copier multifunctional machine, you have a variety of aspects to consider – speed, memory, resolution, duplexing, networking, computer adaptability and work volume. The top priority, of course, is choosing a multifunctional machine which will integrate well with your existing computer. You will need to be familiar with the specifications of your computer before shopping for your multifunctional device in order to choose one that will integrate well with it.
Speed can be a factor when shopping for your multifunctional machine. Speed refers to the number of pages the printer part of the machine can print in a minute as well as how many pages the copier can copy per minute. Your typical productivity as well as anticipated business growth should be taken into consideration during the selection process.
Memory (measured in megabytes or MB) can be a major consideration when choosing a multipurpose office machine. The larger the memory is in the machine, the more efficient it will print, scan and copy. When you have a large document, you need a large amount of memory in your machine in order to handle the job; otherwise, it could take a considerable amount of time to process it.
Resolution is a definitive factor in multipurpose machines as it refers to the clarity of output. DPI or dots per inch refers to the image quality these machines produce so the higher the DPI, the better the quality. You will want to check the resolution for both the printer and scanner portion of the multifunctional machine and decide what you can live with quality-wise.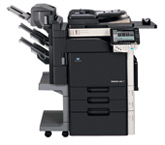 Duplexing and networking are two optional features that may or may not be important to you. If there are several people in your office and you want to reduce costs, a networking multifunctional device makes sense as you all can share it. Duplexing refers to the ability to print on both sides of the paper. If your work calls for quite a bit of double-sided printing, then you will want a machine capable of this.
The final aspect to consider is work output – what you expect your multifunctional machine to produce on a consistent basis. Most machines are graded by the number of copies it can produce in a month. Therefore, you will want to decide what your average production of printer copies would be per month, and then add about 20% to that figure to anticipate months that may be busier than others.
When outfitting your business office with machines of the trade, consider your budget, available office space and your production rate. A multifunctional printer scanner copier just might be the technological answer to your business needs.