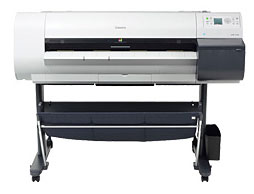 Increasingly, businesses are choosing a wide format printer for their printing needs. With this type of printer you can print wide-format color graphics. This is ideal for the business that needs to create posters or other graphic products for their business needs. This wide-format printer has been created with graphic needs kept in mind and when you have a special job, you should use the tool specifically suited for it to get the best results. This type of printer can dramatically reduce your need for outsourcing printing jobs.
One of the top benefits of using the wide-format style printer is the droplet technology system. The droplet technology system means that the pixels per square inch are simply indistinguishable. So whether you are creating something at high-speed, normal or in the enhanced mode you'll have super sharp fine results that will please you every time. Your graphic results will be as fine and as detailed as a photograph. This type of printer was made to create graphics with. You can feel confident using any photographs or company logos, knowing that they will come out clean, polished and professional.
Another benefit of this style of printer is that it distinguishes very well between the graphics and the text. You'll easily be able to read clearly any text included in your document. The text will come through with each line distinguishable and understandable. You'll read your text easily even if it is very small text. Some printers seem to read well on photographs and then they cannot capture the details of text just as well. With the wide format machine you will be pleasantly surprised with the results as it has a high level of detail for both graphics and the text which gives you professional looking results every time.
A Printer That Saves You Time and Money
Having this type of machine will cut down on the print work you send to out for your company. You will have the ability to do so much more in-house than ever before. This saves costs and increases productivity plus knowing you don't have to wait to get professional looking materials to best promote your business or department is important. The wide-format machine will give you great results.
Another benefit to this machine is speed. They won't take "forever" to be done and with four print heads with bi-directional printing control printing gets done easily and quickly. Most wide format printers can print 15 large posters in an hour with great attention to detail.


Many businesses are well served by a wide-format printer and whether your business is large or small, this printer can be very useful for you. Those who have an ongoing need for brochures and posters can find the wide format printer an excellent investment.