Office copiers are a virtual staple in the business office and are probably one of the most used machines. If you are in charge of purchasing your office's next copier, you will discover that there are a multitude of choices in regards to features as well as technology such as analog versus digital. Do you know what your office needs are in regards to your reproduction needs?
Machine Capabilities
The first question you should ask yourself in regards to purchasing a copier for the office is, "What do I need this machine to do?" If this machine is for a multi-person office, you might consider a copier with network capabilities which allow not only copying capabilities but also serves as the printer for the computer generated print jobs.
There is also copy machines with scanning, printing and faxing capabilities all rolled into one. Duplexing trays allow for double sided copies while a sorting tray allows for copies to be collated into sets and even hole-punched and stapled should that capability be needed. For machines with multi-functions like the faxing, copying and printing, you should be cognizant that if one feature breaks, you may lose all functionality.
Color is an option for your office copy machine. Office copiers with color options also reproduce black and white copies as well. If your office prints a lot of color work, this type of machine would be beneficial as it would produce color copies more cheaply than individual color printers.
Volume Production Requirements
Once you determine the features your copier should have, the next step is to determine the expected monthly volume production. How many copies do you expect your machine to reproduce in a month? If you currently have copiers in the office, keep track of the volume counter for a month or two to gauge what you can expect your new copier will need to handle. Next, inflate that copy number by about 15-20% to allow for a margin of error. This figure should help you narrow down your selection of copy machines.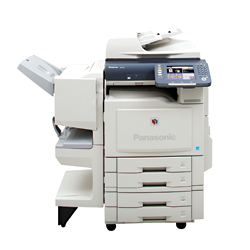 If you do not currently have a copy machine, look to your copy receipts when you take jobs to a printer for reproduction to determine an approximate copy count. And if you are planning to expand and are not sure how many copies to anticipate, determine the average copy count per person currently and extrapolate that figure to incorporate more employees.
Speed Requirements
The final determination of which machine to go with is copier speed. The speed of a copier is based on how many pages per minute the machine can produce letter-size copies. The average size office sports a copier that produces 25 to 50 copies per minute but if you have a busy office where productivity is important, a faster copier speed may be necessary. However, if your office is small, a machine that produces 15 to 25 copies per minute might be more economical.
The price of a copy machine will be influenced by all three factors discussed – features, volume production and speed. Office copiers come in a variety of styles and capabilities so determine your office's overall requirements to finalize your selection.